First grade:
Teacher:  "And what do you want to be when you grow up?"
Reese: "I don't know."
Teacher: "Do you want to be a fireman?  A police officer?  A doctor?"
Reese: "No, that's far too common, silly teacher.  I want to be a Loss Control Engineer!"
Teacher: "A what?"
And for the last 25 years, that's the question I have to answer when people ask what I do.  Today marks my 25th year with the same employer.  Strangely enough, I remember within a month of starting my job, I was sitting at the equivalent of a school desk, reading very boring introductory manuals, and being rather taken by the office decor – tan desks, green carpets, burgundy walls.  It was an open floor plan as their were no cubes "back in those days," and I thought to myself, "I could work here forever."
Prophetic?  Forever is a long time.  I hope to leave someday at a time of my choosing rather than some type of fatal event.  Many would say that I am an anachronism, a 21st century employee who has worked for exactly one employer since leaving college.  And statistics would prove them right.
The "job" has changed over the years, beyond an eventual change in responsibilities to a managing role.  But the work that I (or we) do remains very much the same, even if packaged in different means and metrics.  We've expanded our resources, hired better people, and vastly improved the quality and consistency of what we do.  We have demonstrable results that impact company profits.  
Those changes over the years are far more important than technological changes from mail>fax>email>cell or paper files/manuals/workshops to e-everything.  Looking back, I'm aware of these changes and expect more of them.  But, technological changes are not meaningful regarding a job experience.  They're facilitators, and, honestly, dictation wasn't so bad way back when. 
A 401(k) program existed when I was hired.  The notion was that it put retirement funding into the hands of individuals who, even in 1987, were expected to change jobs, possibly many times, during their career.  Funded retirement plans were already on the way out.  I look around at many others in my division, and it seems that we didn't get the memo on that particular shift in cultural norms.  It speaks well both of my employer and the job satisfaction that comes from my occupation that many of the people I work with today have tenures as long or longer than mine, which is especially notable in a corporate culture that does not favor place-holders.  We're measurably productive.
At 25 years also comes a natural reflection on the term "company loyalty." I have not thought a whole lot about it, at least until the recent barrage of well wishers remarking on a quarter century in one place.  There has always been an understanding between me, myself, and I that the company would employ me for as long as it was worthwhile to do so, and I would work for them as long as I felt it was worthwhile to do so.  That's not loyalty; that's an agreement.  I see it as factual, though I'm sure many who have experienced the negative outcomes of that philosophy would consider it callous or worse.
I have gotten to know a lot of people - in my department, in other departments, in our Home Office, in many other offices.  I'm mindful of it almost every day when I greet people in the halls and elsewhere.  I'm wired in to the place.  Those relationships represent an organizational reach that allows me to get things done – better – faster – more constructively.  That's at least one benefit of longevity, but not a factor in loyalty.
I know these people because of my interactions with them through the years.  I have opinions about each of them built on work experience.   The flip side of this professional judgment of others is that I'm also particularly aware of my own "brand."  I don't know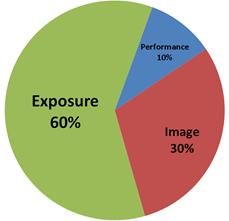 exactly what others think of me.  To some extent, that will vary depending on the duration and frequency of personal interactions which guide or shape their conclusions about my value.  But, even a brief interaction, positive or negative, can lift or derail a career.  It wasn't until year 15 or so that someone coached me to an awareness that others' perceptions should not be passively allowed, but actively shaped.  Whatever my "brand" currently is, I'm confident it could purchase a passport for me to go elsewhere, but it's not exportable itself.  It would take time to validate, if not recreate.  Still, personal evolution or related achievements are not a reason for or a consequence of company loyalty. 
Some would point towards longevity with an employer as a failure to maximize my capital potential.  Does this result from a conservative nature that is afraid to risk stepping in potentially greener grass?  Perhaps.  But, I know my lawn very, very well.  It's not just a matter of comfort; it's the result of investment.  There's been a lot of seeding, watering, mowing, raking… and, of course, fertilizer.  This company has a good thing going, and I, on most days, actually enjoy my work. 
Up until I interviewed for the job, I really had no idea what this particular occupation was about, and, in fact, it would take years to fully understand it.  There's a difference between "work" and "vocation."  Some people are naturally led into a profession with a calling.  Most are not.  But within one's lifespan, the "work" should add to the richness of one's life, while necessarily affording it as well.  And what a rich job this has been.  It has offered an amazing platform to learn – people, places, businesses, industries, ideas – a career perfect for a person who enjoys absorbing and contemplating everyday experiences.  It's a bonus that it's a role that at the point of delivery is designed to help others from physical and financial harm.  I've thus neatly summed up what is an occupation loyalty, but not company loyalty.
For those who know me from work and may venture to these lines, it's pretty obvious that I'm just tossing pebbles in a pond rather than getting to the inevitable point.   The people.  I like skipping rocks.  Patience.
Companies, like governments or other institutions, are not paper tigers.  From a transactional level, one's opinion of any organization is informed by the value demonstrated by its people.  Internally, it's the same.  Working with others is just as much a transaction, and employees depend upon each other for value at every point of need, else the delivery is flawed. 
A recent understanding is that liking the people I work with has far less to do with my job satisfaction than I might have otherwise thought.  It certainly helps, and it does play a large role in enjoying work on a day to day basis.  But over the long term, respecting coworkers at any and every level in the organization is far more important.  An abbreviated definition of "quality outcome" is to do the right thing the right way.  We have more than our
share of people who do both, consistently, and, ultimately, it is my confidence in the collective talents of so many that keeps me here.  They position me for success, or, viewed oppositely, they minimize frustrations.  It's the type of environment in which I, and I would hope all, would want to work. 
Therefore, it saddens me when coworkers – great employees, whether "friends" or not – retire, even while I'm happy for them.  The workplace is not as it was. 
It wounds me when fine professionals leave for other opportunities.  I know that there are logical reasons for promotions, wages, relocations due to life changes, etc.  And there are certainly frustrations or pressures that motivate some to leave.  But, I want to work with the best people, and as such, it frustrates me when they choose not to remain here.  When they leave, the workplace, in some idyllic fashion, is not as it should be. 
Incoming talent matters.  It thrills me when younger minds enter and leap forward in their abilities.  I'm finally wizened to the point that I can teach things not found in e-learning, and I feel the organizational necessity of doing just that.  The workplace is always becoming.
25 years is very much a reflection on aging, and it mirrors observations through other phases of life, from school, to family, to other activities.  Like everything else, work is generational, a term which now speaks equally to what is ahead as it does to what is behind. 
It's been a challenging and rewarding 25 years.  As in counting birthdays, the only negatives come when numbers are put to it.  It wasn't so long ago that other coworkers had their 25th anniversaries, only, they've more recently celebrated 30 and 35 years.  Time flies, and I really don't want to absorb or contemplate that just now.  I've got other things to do so I can go to bed and get up for work in the morning.
To all that have played a role, thank you.